A Sports Fan's Guide to Boston
Sports are big in Boston, and it's no mystery why! The city is home to one of the oldest MLB teams, one of the most successful football franchises in the country, and an NBA team that has brought home more championship wins than any other.
No matter who you root for, one thing is certain: no one wants to struggle with transportation on game day. That's where Boston Charter Bus Company comes in. We specialize in comfortable and stress-free group travel, and our big network of motorcoaches lets us connect every fan group with the perfect ride. So whether you're planning a tailgate with your fan group or an outing with your youth team, you'll have plenty of room to stretch out, scroll through your social feed with the onboard WiFi, watch hype videos over the TVs, and enjoy the ride to these top sports venues in Boston: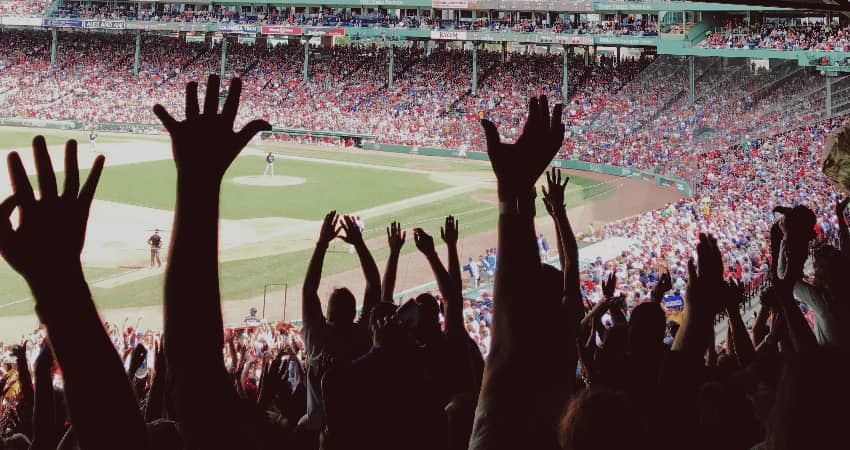 Boston Red Sox at Fenway Park
Fenway Park is one of the city's most popular destinations—and for good reason. It's the oldest ballpark still used in MLB, bringing in thousands of Red Sox fans and baseball history buffs alike every year. While much of the original 1912 construction still remains, new additions to the stadium grounds include Yawkey Way: a pedestrian shopping plaza adjacent to the stadium that hosts live music before games.
Planning a get-together with your favorite sports fans? Make it one they won't soon forget and host it at Fenway Park! The ballpark offers 11 rentable venues for private events of all kinds—including birthdays and corporate meetings. These spaces can accommodate between 20 and 20,000 people and can be reserved all year round, even during baseball season. Venue rental packages through Fenway Park can include customizable add-ons like photo ops with the Red Sox mascots, guest access to the field, and walking tours of this historic stadium.
Speaking of, the walking tours are available all year round, three hours before game time during baseball season and between 9 a.m. and 5 p.m. on most non-game days. Your tour guide will show you Fenway Park highlights such as the Green Monster (the tallest outfield wall in the league), the Long Red Seat (the spot where Ted Williams landed a 502-foot homer and broke through a fan's large straw hat), and more. Groups of 12 or more can even take advantage of discounted tour rates when they reserve in advance.
Parking near Fenway Park and in the surrounding neighborhood is very limited: combined, the surrounding lots can only accommodate 4,150 vehicles. We recommend saving your Sox fans the hassle of getting to the game or your next event by renting a private shuttle service to and from the park. That way, no one has to circle the Fenway neighborhood in search of the perfect spot—a professional driver can handle all the logistics for them!
Address: 4 Jersey St, Boston, MA 02215
Charter Bus Parking: Some of the Fenway Park lots allow oversized vehicles, and spots can be reserved online before the game. Just ensure your bus driver knows to approach the ballpark on Brookline Avenue rather than Storrow Drive, which prohibits oversized vehicles.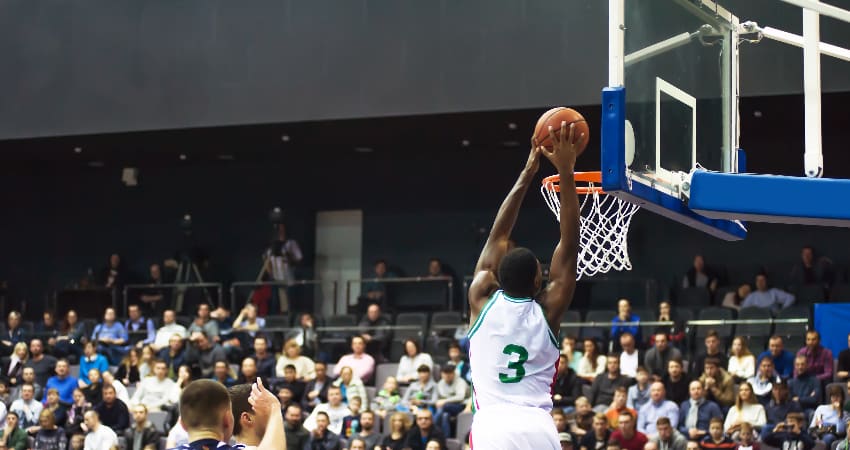 Boston Celtics and Boston Bruins at TD Garden
Located right on the Charles River, this West End complex is where you can watch Boston's major league basketball and hockey teams play on their home turf. In the off-season, this 19,000-seat venue is also a popular spot for the city's biggest concerts, with past performances including the likes of Guns N' Roses, Shania Twain, and Kendrick Lamar.
As for concessions, TD Gardens offers standard stadium fare—burgers, hot dogs, and plenty of beer to go around. If your group of spectators doesn't want to spend a lot of time standing in line for food, there is an in-seat ordering system so you can pick up your grub during halftime or your least favorite song.
Have some time to kill before a game or concert? On Levels 5 and 6, you'll find The Sports Museum, which boasts nearly half a mile of exhibits celebrating Boston sports, their history, and the characters that have shaped it throughout the years. Public tours of the museum step off every hour between 10 a.m. and 3 p.m. most days. But if your sports fans want a more exclusive experience, custom tours with the curator are available and can cover any aspect of Boston athletics that piques your group's interest—from their favorite local legends to a specific decade in history.
Address: 100 Legends Way, Boston, MA 02114
Charter Bus Parking: The closest coach-friendly parking zone to TD Gardens is located on the
Central Artery, behind the Hard Rock Café and the south side of the Rose Kennedy Greenway.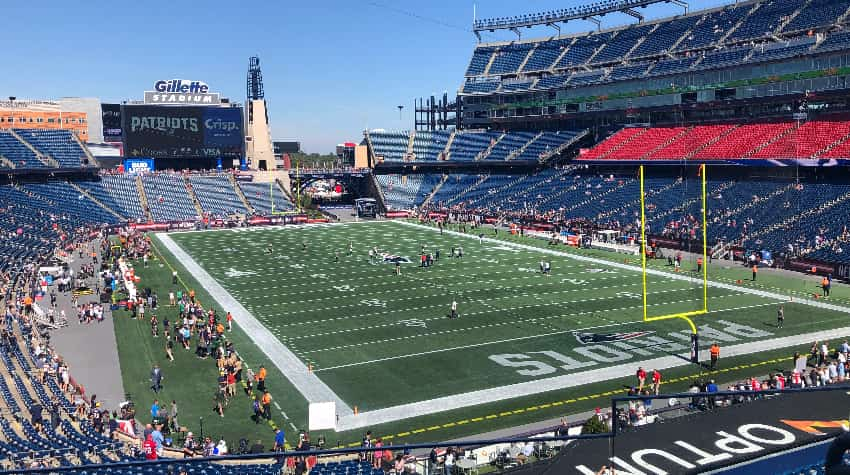 New England Patriots and New England Revolution at Gillette Stadium
If you're a Boston sports fan, we probably don't need to tell you why this place is significant. Since its construction in 2002, the New England Patriots and New England Revolution have considered Gillette Stadium their stomping grounds. The Patriots sold out every home game in this 60,000-seat stadium for 24 seasons (until 2017), making it one of the most-visited venues in the Boston area.
Before or after the game, consider spending some time exploring Patriot Place, the open-air shopping center adjacent to the stadium. There, fans can peruse the bars, cafes, taquerias, and retail stores before walking over to the stadium or heading home.
In this shopping center, you'll also find the Patriots Hall of Fame: an interactive museum dedicated to the team's history and where the Patriots' five Super Bowl trophies and multiple AFC Championship rings reside. Gillette Stadium does not offer walking tours to the public, so the Hall of Fame is one of the best ways to turn your visit into a learning experience. Call ahead to reserve a field trip package, and your students can learn about aspects of STEM through their favorite sports—from building NFL franchise team budgets to learning about the importance of nutrition for athletes.
Those planning to stop by for a Patriots game or a New England Revolution match should keep in mind that Gillette Stadium isn't located in Boston, but in Foxborough. So if your fan group is based or staying in downtown Boston, you'll need to travel 30 miles to see the action. You can take the T from South Station in Boston to Walpole—a few miles from the arena—but there are no direct lines to Gillette Stadium. If you're traveling with a large group and don't want to worry about driving, we recommend renting a charter bus or minibus, so everyone can arrive together and comfortably. Boston Charter Bus Company can even connect you with a bus rental that offers enough storage and amenities to make tailgates even more fun!
Address: 1 Patriot Pl, Foxborough, MA 02035
Charter Bus Parking: Gillette Stadium offers bus parking in Lot 52, near the general parking area, for $150 per vehicle.
Rally for Your Favorite Boston Sporting Event
Whether you're a fan group going to cheer on the Celtics or an afterschool group excited to tour baseball's oldest stadium, your travels to your top Boston sports venues will be much easier with a bus rental! Let Boston Charter Bus Company connect your fans to a clean and modern motorcoach, and rest easy knowing everyone will arrive right on time and all together, no matter what.
Give us a call at 617-314-7577 whenever you're ready to learn more about charter bus rentals in Boston, and we'll offer you a free and personalized quote with no obligation to book!
Do you need to rent a charter bus?